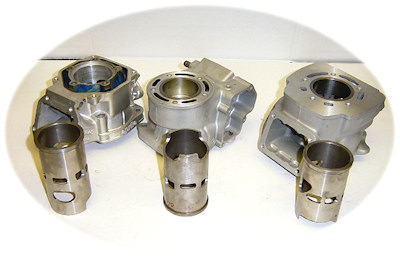 Its no secret that most of today's high performance moto-x, motorcycle, ATV's, watercraft engines are using various coatings on their cylinder bore. These coatings include Nickasil, ceramic compsite, and chrome.
The main reason why manufacturers use this process is primarily cost. You see in the old day's manufacturers had to cast an iron sleeve, machine it, then put it into a mould and cast an aluminium cylinder around the sleeve, then machine the top and bottom face of the cylinder and match up the ports then bore and hone. Then the manufacturers had to supply dealers with over size pistons & rings etc.

But after all this the cylinder still wears out
Many things promote cylinder and piston wear, Dirt entering the carburettor, pre-ignition, detonation, overheating, incorrect jetting, leaking head gasket, poor quality oil, not bringing the engine up to temperature before riding. Just to name a few.
When your coated cylinder is worn or damaged it can't be re bored because the coating is very thin. At this point you have three options:

1. Re-coat the cylinder ( See Our Cylinder Re-coating sheet)
2. Buy a new factory cylinder (Way to expensive)
3. Re-sleeve the cylinder.
When we re-sleeve the cylinder, it's fitted with a custom chrome molly iron cylinder sleeve. These sleeves will maintain all factory-porting specs. When the bore wears out you simply have it bored and fit a new over size piston.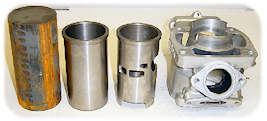 We believe that our cylinder department is fully equipped to meet your needs with all the best equipment with and over 30 years of experience we guarantees your satisfaction. Your cylinder is returned bored honed washed and ready to fit on to your engine.
To ensure you receive only the highest-grade sleeve, we have developed our own premium formula of chrome molly iron. After extensive research, we have created a blend of alloys that guarantee strength and durability no matter what conditions you run under.

A few F.A.Q about cast iron sleeved cylinders
1 Will my engine loose power?
No, All we are doing is replacing the bore surface. The bore size will remain the same and so will all the porting.

2 Will the engine run hotter with a sleeve in?
No, There will be no problem with heat, this type of process is still in use most 100cc Go-kart engines run with a 10m/m thick cast iron sleeve and Rev to 20.000 RPM Yes twenty Thousand RPM!

3 Will I have to use a different type of piston or ring?
No, All types of piston rings are compatible with our chrome molly material.
PRICES FOR 2 STROKE CYLINDERS
50cc To 125cc From £135.00 + VAT Per Bore
250cc From £150+ VAT Per Bore
500CC From £203.50 +VAT Per Bore

Yamaha DT125R,TZR125,RD125LC, DT125LC ALL £165.00 + VAT Per Bore

Yamaha RD250, RD350, RD400, RD350LC, RD350YPVS,RD500, TZR250,TDR250 ALL £195.00 + VAT Per Bore

lambretta TS1 RB Etc From £160.00 + VAT Per Bore

Turnaround time is usually 14-20 Working days. We only work on the bare cylinder so power valves studs etc must be removed. An addition charge will be made to strip any studs or power valves.
All prices are Plus VAT

PJ Motorcycle Engineer's LTD
21 Rookery Street, Wednesfield,Wolverhampton WV11 1UN
TEL 01902 307457
websales@pjme.co.uk